Family Article: Covid Opportunities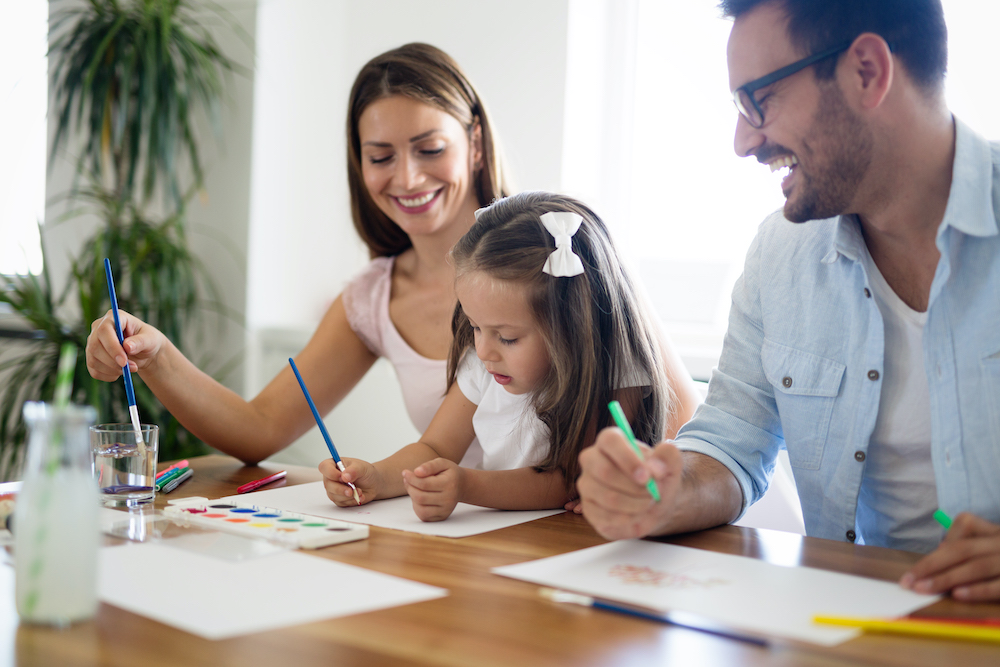 It has been several months since I started writing blog posts to share advice on how to balance work and family commitments during stay-at-home orders. A lot has changed since then, and I have learned many valuable lessons along the way (many of which I wish I had understood back in the spring). However, as the poem The Great Realization by Tom Foolery reminds us: hindsight is 2020!
As I look back on this year, the main lesson I've learned is how important it is to recognize the value of those around us, especially our families. I've always believed in work-life balance, but I believe even more in work-life integration. The past few months have taught me the importance of taking into account—and integrating—the needs of every family member, as well as acknowledging the unique contribution each family member can make to the collective effort as a whole, especially when circumstances change.
As September is upon us, many schools are back in session with hybrid in-person/e-learning plans. However, it seems clear that e-learning will probably become a permanent part of the mix as schools now have established synchronized learning systems. This means that while a teacher may be online with students throughout the entire day, some of the students can break out into different Zoom sessions for specific class projects, on a rotating basis.
I think this is really cool, because it actually means that there is no limit on learning capabilities. For example, now that schools are set up to continue teaching online, there will be no more "snow days" in the winter or, more importantly, "make up" days in the summer! It seems the lessons learned in e-learning will be invaluable to managing—or creating—the new normal, which invariably includes scheduling.
During the stay-at-home order, we personally ran our home like a Montessori school with lots of self-directed activities. Our schedule ran from 8am to 3pm, and was filled with the various Zoom meetings for school and a scheduled lunch. Aside from that, the rest of the time was spent doing hands-on and collaborative learning among the siblings. They had a mandate to work together and help each other out before coming to us for assistance. In addition to allowing us to get some work done, this practice helped foster the older kids' leadership skills. In fact, our two older kids are pretty much old enough to work independently, so having their assistance with managing the activities was great.
On the other hand, our 2nd grader's attention span was… well, as good as any other 2nd grader's! She needs more direction, especially when it came to using technology, submitting assignments, time management and staying on task. At times, that felt pretty challenging—and still does—but with an "all-hands-on-deck" attitude, it helps alleviate the burden, and we manage to give her the support she needs. Even though we all found e-learning with WFH difficult, it challenged us to rethink how we show up and support each other as a family.
I recently read The Infinite Game by Simon Sinek, which is a great read! Although it's a business self-help book, I think the idea of an "infinite mindset" is incredibly relevant to parenting. Real life is not a game with a neat beginning and end, but a never-ending series of challenges—for parents and kids alike. If nothing else, the Covid-19 pandemic has taught my kids (our family, really) not to be limited by those challenges, but to recognize that opportunities are also infinite. We've learned to keep trying, to be flexible, and to let go of perfectionism. Our kids now understand that what matters is to keep working together as a family—as a team—and that's a lesson I honestly don't think they would have learned as well outside of the pandemic.
As an accountant, of course, I'm also keen for my kids to learn financial literacy, which is something else you learn by practice and helps develop good spending habits through experience. My hot tip is the Greenlight debit card. This is a real debit card for kids that their parents control and transfer funds to. The benefit is that it allows kids to independently track their allowance and budgets through an app, so they can learn how to plan, budget and save.
Of course, there is no substitute for school. And the pandemic has shown us that, when it comes to schooling, some challenges are tougher than others. Online schooling worked well (after many adjustment!) when parents were also working from home. Now that many parents are back in the office, they are justifiably concerned about how they will cope with e-learning when it's still necessary and the long-term effect it will have on their child's academics. Thankfully, I have come across various options and tips available, some of which I have implemented:
One solution is private schools or daycare facilities. Some health clubs have also setup camps for e-learning, and local organizations like the YMCA/YWCA have also opened their facilities to help their community's kids keep on top of their learning—using state funding for families in need—which is truly inspiring.
Another option is hiring a babysitter both to stay with the kids and to keep them engaged and focused on their work.
Finally, a really cool idea some families have come up with, is setting up "learning pods" within a neighborhood or school district. This allows one parent to stay with all the kids in the "pod" for one day a week, or one week at a time, with other parents taking over on a rotating basis.
Whether you are struggling with e-learning or going back to in-person learning, we are all still trying to figure it out in real time. However, for us there were some things we tried out last spring that worked well which we will continue to do. For example, even when the kids are learning from home, we found it helpful to drive them to school and back in the morning to get them in the school mindset. Plus, with some teachers working on-site even when teaching remotely, the kids were happy to catch a glimpse of them and wave hello from the car.
We also created a new traditions to ease the emotional burden these changes placed on our family. During the stay at home order, every Sunday's in our home was Thanksgiving—minus the turkey! We all got dressed up and had dinner as a family in our formal dining room. It was fun, felt special, and I know that it will be a happy memory that will outlast any stress from these times.
Also, thanks to the pandemic, our vacations have turned into staycations. We love to travel, but with exotic family trips no longer possible, we planned shorter local camping trips instead. We spent the night at several state park preserves near us that I never knew existed. My kids even raved that this was more fun than our annual Florida trip. And at just $12 to book the camp site, we will definitely be adjusting our travel budget for next year!
So, we're learning to adapt and be resilient, embracing change as an opportunity to learn and grow as a family. I'm not saying it's been easy. Have sibling quarantine quarrels put our patience to a real test? You bet! Are we all frustrated sometimes because the internet connection is lagging? Sure. Do the kids get upset if the teacher doesn't see them raising their hand on Zoom and they feel a lack of connection? Yup. But this is all teaching them that sometimes things don't go to plan, and your best asset is flexibility and innovation. That's where we come in as parents. It's something the pandemic challenged us to practice more ourselves, which has allowed us to share it with our kids.
Our job is to make sure they know we love them and believe in them, and that we are here to support them whatever happens. That's what helps them develop the courage they need to withstand any future challenges that will come their way. Long after Covid-19 is gone, they will know themselves to be resilient and creative, because they were—because we were. If we can help them develop greater resilience now, so that they look back on 2020 as a time of learning and growth, that's a #CovidOpportunity worth talking about.
Stay safe, healthy and sane!
With gratitude,
Eaman Shebley, EA
More News & Insights
A comprehensive round-up of tax pointers for plant-touching businesses in the cannabis industry from CJBS Senior Partner Matt Bergman, CPA.  Cannabis's federal illegality and stringent regulations for state-legal businesses make taxation in the cannabis industry difficult to navigate–and that's an understatement. CJBS Senior Partner Matt Bergman, CPA, knows these complexities well, having operated in the […]
As we move into September, it's important to keep an eye on the calendar, especially if you filed an extension last spring. As a reminder, here are the upcoming deadlines for extensions: In addition to upcoming deadlines, this month we are inviting you to start thinking about your year-end tax planning strategies and how you […]
Running a business comes with its own inherent list of challenges and rewards. On a daily basis, you are often faced with decision-making opportunities that can affect the future of the company, including current tax liability and financial health. However, there's one decision that impacts the future in more far-reaching ways that is often overlooked […]
If you're a manufacturer, optimizing your business tax credit is key to maintaining good financial health. In general, tax credits are more valuable than tax deductions. Why? Because a credit reduces the company's overall tax liability on a dollar-for-dollar basis, whereas a tax deduction only reduces the business' taxable income. Appropriately using both, of course, […]
Internal controls are procedural safeguards put in place to protect access to financial information and transactions. Setting up internal controls is critical for any business to prevent fraud, but it is even more important for cannabis operators–as the industry is especially susceptible to fraud. We discuss internal controls in detail in this webinar with Partner […]
It's hard to believe that summer is almost over. With September around the corner, we are hard at work finalizing extended tax returns. If you filed an extension last spring, please reach out to your CJBS team member with any questions about your return or extension. For your convenience, all the extension deadlines are listed […]