How A Memorable Proud Father Moment Turned Into A Generation-Skipping Connection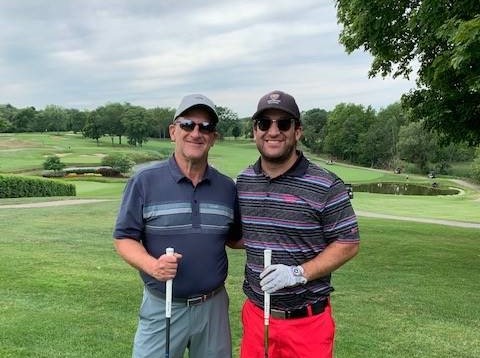 When I'm not creating innovative tax and financial strategies for clients, you can usually find me on the golf course. Golf checks a lot of boxes for me. I originally started to play as I saw others developing relationships and business on the golf course. Having never played, I immediately went for some lessons. The first time I hit a four iron long and straight, I was hooked. Over the years, golf has evolved for me and provided endless days of memories through buddy golf trips, competitive tournaments, or just for fun. Through the countless rounds, there is one round that stands out as my favorite and always will be.
My son Matt started showing interest in golf when he was nine years old. We started with simply hitting balls at the range. He quickly wanted to take it to the course. At the time we lived close to a nine-hole par three course. I thought this would be a perfect way to introduce Matt to a golf course. We went and played three times early in the spring of 2002. But the fourth time would be special.
May 5, 2002 was a sunny, beautiful spring day. Perfect for golf – no wind and high, thin clouds. The smell of freshly cut grass. Matt and I were paired up with another father and son. We arrived on the tee at the fourth hole, which plays uphill. Matt hits a terrific shot, dead straight at the middle of the green. I hit a solid shot, which I thought was over the back of the green. As we approach the green, we see only one ball on the green about 20 feet to the right of the pin. We think it's Matt's ball and we high five each other for a good shot and a chance at a birdie!
My ball is not to be found and I ask the other father, we're playing with, if he saw the other ball. He replies that there's a ball in the hole. My heart rate immediately increases at the excitement of my first hole in one. As I approach the hole, I see a ball is in fact in the cup. As I bend down to pick up the ball, I realize it is not my ball, but Matt's. My ball was the one we saw on the green.
How crazy that a nine year old, playing for the fourth time hits an ace! The celebration was on. We finished the remaining holes filled with laughter and Matt realizing how special the day was. He even trashed talked me about making one before I did. I knew then this would be the first of many great rounds with my son.
After we finished, we went into the clubhouse and asked what they do for a hole in one. The golf pro started to congratulate me, and I quickly corrected him to say it was Matt's hole in one. As he returned a look of doubt, I saw the other father and asked him to confirm what happened on hole four. The golf pro quickly pivoted and made Matt feel like he just won the Masters (absent the green jacket). Too see his eyes light up with excitement was incredible.
Matt's name is included on their plaque listing all the hole in ones at the course. To commemorate the event, we made a stellar picture frame including the signed scorecard, golf ball and tee used, along with the date. The date this happened is also special. May 5th was my grandfather's birthday. He took me to my first baseball game when I was a little younger than Matt. Though Matt never was able to meet him, I couldn't help but feel he was there in some way cheering on.
Since then I've had several close chances, but it took another eleven years for me to finally make my first hole in one. Knowing how exciting the feeling was for me, I can't imagine his jubilation that comes with being nine years old. Matt and I continue our golfing activities whether playing, going to professional events, or watching on TV. Even with all the golf I play today, the most enjoyable rounds are with Matt. And almost twenty years later, Matt always calls every May 5th and reminds me, "Do you know what today is, Dad?"
Michael W. Blitstein, CPA
More News & Insights
Dear Clients & Friends, We've had our first snowfall of the year here in Illinois this week, the air is crisp and it's beginning to feel a lot like the Holiday season. Before we get too caught up in family time, it's a good idea to take some time to take care of a few […]
Dear Clients & Friends, Extended tax season just ended, and we appreciate your trust in us as we strive to provide the best possible service to our clients. You may receive a survey requesting feedback on our services in the next few weeks. We would love to hear from you! Please take the time to […]
Dear Clients & Friends, As we enter the fourth quarter for 2022, it's time to start thinking about year-end tax planning. While we work on finalizing the 2021 extensions that are due by October 15th, we are also starting to schedule our annual year-end meetings with clients to prepare for 2022 taxes. We recommend that […]
Dear Clients & Friends, We can't believe summer is almost over. With September only a few days away, we are hard at work finalizing extended tax returns. If you filed an extension last spring, please reach out to your CJBS team member if you have any questions about your return or extension. All of the […]
On August 16th, the President signed the Inflation Reduction Act of 2022, which is widely seen as a slimmed-down version of the President's Build Back Better agenda. Despite its name, many experts do not believe the bill will have a significant impact on prices, though its original intent is to slow their rapid increase. In addition to some of the […]
Whether you're just starting out in the cannabis industry or are a multi-state operator — and whether you're a cultivator, processor, or dispensary — our experienced cannabis experts tailor solutions to your specific challenges. Learn more from Matthew Bergman, CPA and Senior Partner below.