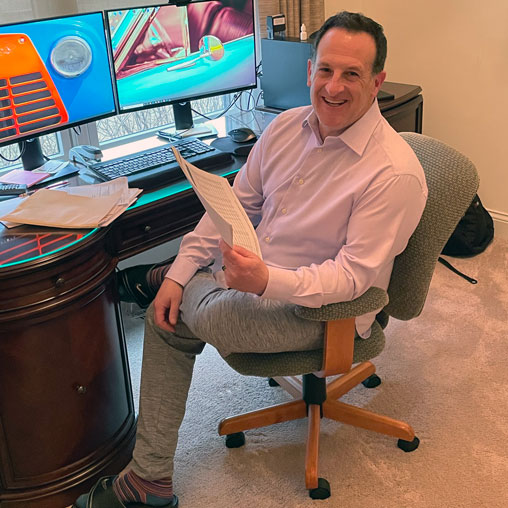 In the past the beginning of March has always meant certain things to me – we have endured the worst weather of another Chicago winter and spring is close; the groundhog has seen his "tax" shadow so there is only six more weeks of tax season; golf season will soon be here; and a funny John Belushi bit about March coming in like a lion (worth the YouTube search).
But as we begin this March, I find myself reflecting on how much has changed in the past year and how quickly changes have become "normal". I haven't seen a client in almost a year, assuming meetings on Teams or Zoom don't count. I just had an annual tax meeting through video with the last client I saw face to face last March. When we originally closed our office twelve months ago, I remember saying to my partner, "see you in four weeks."
2021 is a milestone year for my career in public accounting. I have seen many changes and differences throughout my journey. Though my experience includes multiple major tax reforms and law changes, one big change has been appropriate dress. While the business community has slowly migrated to more casual attire, COVID and remote working have taken it to a new level.
When I started my first job, appropriate business dress was a jacket and tie. Over the years, we have transitioned first to no jacket, then to no tie. Fridays became casual Fridays, meaning jeans were acceptable. Recently, jeans have become even more acceptable.
Working remotely and independently provided a relaxed atmosphere. So why not be comfortable while working if I can't see anyone? I bought in, though it felt strange at first. I felt like I was working for a tech start-up rather than within an accounting firm. I quickly got over it, but it's interesting to see how this has changed working culture.
Business Wire reported 60% of those working from home were wearing sweatpants. Additionally, 17% report wearing an office appropriate top and casual on the bottom. This rises to 49% when taking a video call. Clearly, comfort has beaten formality.
To recognize this change, CJBS held a Creative Casual Wear contest. The intent was to let everyone express themselves and show their "flair". Participation was exceptional and prizes were awarded to the medalists.
Like so many businesses, we had to pivot and learn new processes and procedures to effectively service our clients. We needed to establish virtual offices and remote working. We had to find new ways to work together internally.
Now a year later, I am pleased to report how well we have adapted. This by no means was easy and took everyone's best effort to accomplish. But the great news is we did it together. If there was ever a test of our firm core values, COVID certainly has provided one. Our three pillars of trust, collaboration and creativity are attributable to this success.
Now that we are in the office more frequently, it's time to get back to "normal". Though I look forward to remaining business casual, I'll leave the sweatpants at home. More importantly, I look forward to reconnecting personally with clients and friends who we haven't been able to see.
We'd love to hear the stories about your year in sweatpants (or yoga pants). Please share using #MyYearInSweatpants, so we can build a community.
Michael W. Blitstein, CPA
More News & Insights
M&A success goes beyond numbers. Organizations often consider successful M&A as solving a giant puzzle of financial statements, hoping to find the perfect profitability balance for both parties. While this is important, it is essential to look beyond the initial business stakes of numbers and profitability. A recent Deloitte study states the root cause of […]
Dear Clients & Friends, Hello! Spring is here, and tax season is now officially behind us. Here at CJBS we take advantage of the beautiful Chicago weather and a chance to rejuvenate and spend time with our loved ones by closing our office at 2 pm on Fridays from May – August. Unless you filed […]
Dear Clients & Friends, Tax deadlines are upon us. This year, tax day is April 18th in most states, with an extension date of October 16th. For individuals in FEMA-designated disaster areas, the deadlines have been postponed to October 16, 2023. If you haven't started on your taxes for 2022, now is the time. Even […]
Dear Clients and Friends,  We hope you are enjoying the beginning of spring. As we get closer to our individual tax deadline (4/18/23), we wanted to send a reminder about Illinois Extensions Payments. Illinois does not allow third party tax software to process extension payments electronically. If you have a balance due with your extension we […]
Here, we outline ways your cannabis business can safeguard against internal and external fraud attempts.  Cannabis is still a nascent industry—yet cannabis businesses throughout the United States have already seen their fair share of fraud. You may have heard the stories of internal theft, duped investors, cyberattacks, or inflated THC percentages on lab tests—the list […]
Dear Clients & Friends, The deadline to send us your tax-related documents is fast approaching. As a reminder, we require that individuals send us all their documents by March 20 to be able to timely file your tax return by the due date. Otherwise, you are looking at filing an extension. If you are a […]