Susan Gu Celebrates 15 Years at CJBS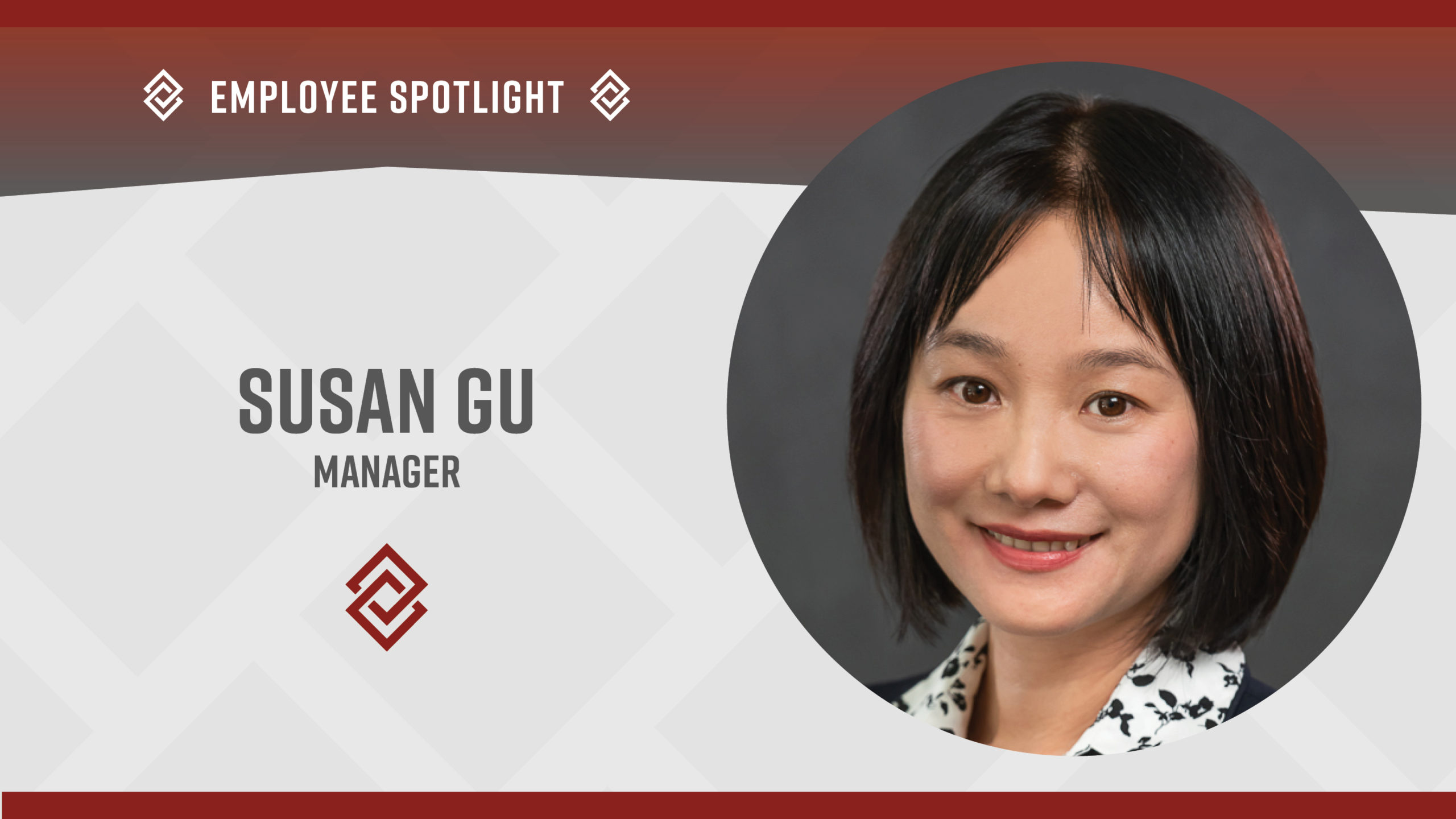 Please join us in congratulating CJBS team member Susan Gu on her 15th anniversary at the firm! As a manager who works primarily in the tax and accounting departments, she focuses on tax consulting, preparation, and reviews, as well as financial statement compilation. 
We caught up with Susan to talk about her work milestone and more:
How did you celebrate your big work anniversary? 
I had dinner with my family at Froggy's French Café in Highwood. The firm helped me celebrate with a lunch party catered by Marcello's and lots of cards and messages with good wishes. Feeling like I'm working as part of a family was my favorite part of the day! 
What has been your most rewarding experience at CJBS so far? 
Leading the internship program. It was challenging at the beginning since there was no program to follow, but this gave me the opportunity to collaborate with other team members as we paved the way forward and started to develop training programs and onboarding processes. These opportunities helped strengthen my leadership skills, improve my confidence, and mentor other team members.
Any tips for mentoring younger team members? 
It's important to give regular feedback and pinpoint areas for improvement, and I'm always sure to make myself available for any questions my team members might have. Relationship building is the most important thing to me, and it helps build trust. Our younger team members are comfortable coming to management with any kind of questions, whether work-related or personal, which helps build employee morale. I love the connection I have with the CJBS team. 
Which CJBS value do you connect with the most? 
Collaboration. Because I'm constantly striving to gain consensus by working as a team, sharing knowledge and skill sets. 
What are you excited to accomplish next at CJBS? 
I've recently completed a Certified Financial Planner (CFP) capstone course at Boston University, and I'm working on obtaining my CFP license in the next few years. This will help me better understand and support our clients' needs when it comes to personalized planning services as they relate to estate, retirement, income tax, personal insurance, and financial asset management and planning. My goal is to specialize in Trusts, which will allow me to develop a holistic approach to helping our high-net worth clients achieve financial success. 
Outside of work, what do you enjoy doing? 
I love spending time with my husband Michael, a Materials Science Engineer, and my 12-year-old son, Alex, who likes soccer, rock climbing, and playing Clash Royale. We enjoy family vacations to San Diego for the beautiful weather, beaches, and food. And we're all Ohio State football fans! 
We're looking forward to working with Susan for many years to come! You can learn more about her background, education, and other interests here. 
More News & Insights
M&A success goes beyond numbers. Organizations often consider successful M&A as solving a giant puzzle of financial statements, hoping to find the perfect profitability balance for both parties. While this is important, it is essential to look beyond the initial business stakes of numbers and profitability. A recent Deloitte study states the root cause of […]
Dear Clients & Friends, Hello! Spring is here, and tax season is now officially behind us. Here at CJBS we take advantage of the beautiful Chicago weather and a chance to rejuvenate and spend time with our loved ones by closing our office at 2 pm on Fridays from May – August. Unless you filed […]
Dear Clients & Friends, Tax deadlines are upon us. This year, tax day is April 18th in most states, with an extension date of October 16th. For individuals in FEMA-designated disaster areas, the deadlines have been postponed to October 16, 2023. If you haven't started on your taxes for 2022, now is the time. Even […]
Dear Clients and Friends,  We hope you are enjoying the beginning of spring. As we get closer to our individual tax deadline (4/18/23), we wanted to send a reminder about Illinois Extensions Payments. Illinois does not allow third party tax software to process extension payments electronically. If you have a balance due with your extension we […]
Here, we outline ways your cannabis business can safeguard against internal and external fraud attempts.  Cannabis is still a nascent industry—yet cannabis businesses throughout the United States have already seen their fair share of fraud. You may have heard the stories of internal theft, duped investors, cyberattacks, or inflated THC percentages on lab tests—the list […]
Dear Clients & Friends, The deadline to send us your tax-related documents is fast approaching. As a reminder, we require that individuals send us all their documents by March 20 to be able to timely file your tax return by the due date. Otherwise, you are looking at filing an extension. If you are a […]