Susan Gu Celebrates 15 Years at CJBS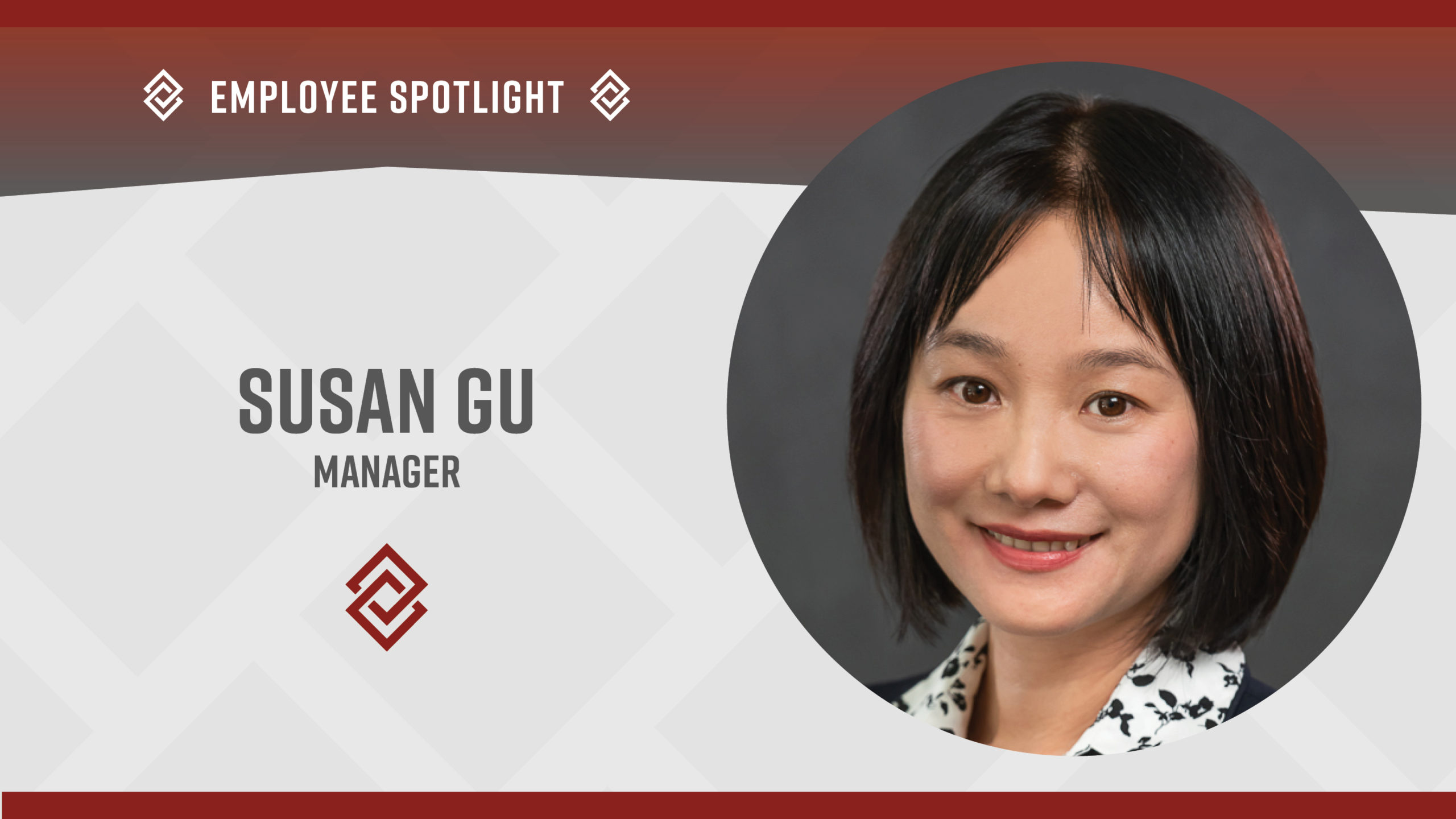 Please join us in congratulating CJBS team member Susan Gu on her 15th anniversary at the firm! As a manager who works primarily in the tax and accounting departments, she focuses on tax consulting, preparation, and reviews, as well as financial statement compilation. 
We caught up with Susan to talk about her work milestone and more:
How did you celebrate your big work anniversary? 
I had dinner with my family at Froggy's French Café in Highwood. The firm helped me celebrate with a lunch party catered by Marcello's and lots of cards and messages with good wishes. Feeling like I'm working as part of a family was my favorite part of the day! 
What has been your most rewarding experience at CJBS so far? 
Leading the internship program. It was challenging at the beginning since there was no program to follow, but this gave me the opportunity to collaborate with other team members as we paved the way forward and started to develop training programs and onboarding processes. These opportunities helped strengthen my leadership skills, improve my confidence, and mentor other team members.
Any tips for mentoring younger team members? 
It's important to give regular feedback and pinpoint areas for improvement, and I'm always sure to make myself available for any questions my team members might have. Relationship building is the most important thing to me, and it helps build trust. Our younger team members are comfortable coming to management with any kind of questions, whether work-related or personal, which helps build employee morale. I love the connection I have with the CJBS team. 
Which CJBS value do you connect with the most? 
Collaboration. Because I'm constantly striving to gain consensus by working as a team, sharing knowledge and skill sets. 
What are you excited to accomplish next at CJBS? 
I've recently completed a Certified Financial Planner (CFP) capstone course at Boston University, and I'm working on obtaining my CFP license in the next few years. This will help me better understand and support our clients' needs when it comes to personalized planning services as they relate to estate, retirement, income tax, personal insurance, and financial asset management and planning. My goal is to specialize in Trusts, which will allow me to develop a holistic approach to helping our high-net worth clients achieve financial success. 
Outside of work, what do you enjoy doing? 
I love spending time with my husband Michael, a Materials Science Engineer, and my 12-year-old son, Alex, who likes soccer, rock climbing, and playing Clash Royale. We enjoy family vacations to San Diego for the beautiful weather, beaches, and food. And we're all Ohio State football fans! 
We're looking forward to working with Susan for many years to come! You can learn more about her background, education, and other interests here. 
More News & Insights
Taking credits can raise flags with the IRS–and audits can be time-consuming and costly. Here's what to consider before opting to save a little extra at tax time. Should you take a tax credit if it means your cannabis business will have a greater chance of being audited? "It depends," says CJBS Partner Ryan Guedel, […]
Dear Clients & Friends, As the extended tax season comes to an end, we appreciate you trusting us to provide the best possible service to meet your financial planning and accounting needs. If for some reason you missed a recent deadline, please call us immediately. With the busy holiday season just around the corner, now […]
As the holiday season is approaching, we wanted to share a NEW Info-Series with you highlighting some of the scams and frauds that are running rampant in today's day and age. We hope this series, written by Larry G. Goldsmith, will help raise your awareness to these scammers' newest tactics and provide you with tips […]
As we come to the end of a challenging year, many people are turning their thoughts to their long-term financial security, looking for ways to make the most of their savings, especially when considering retirement.
There are several benefits to having a Health Savings Account (HSA) and with the rising cost of healthcare, it might be a good time to think about starting one, if you haven't already. What is a health savings account and who is eligible?    In brief, an HSA is a medical savings account to which you […]
The holiday season is upon us! Around this time of year, we are often asked about optimizing charitable tax deductions, including whether you can take charitable donations without itemizing. There are many strategies available to decrease your tax burden through making donations. Below we will discussing a few different methods including bunching as well as […]