How To: Start a New Job During The Pandemic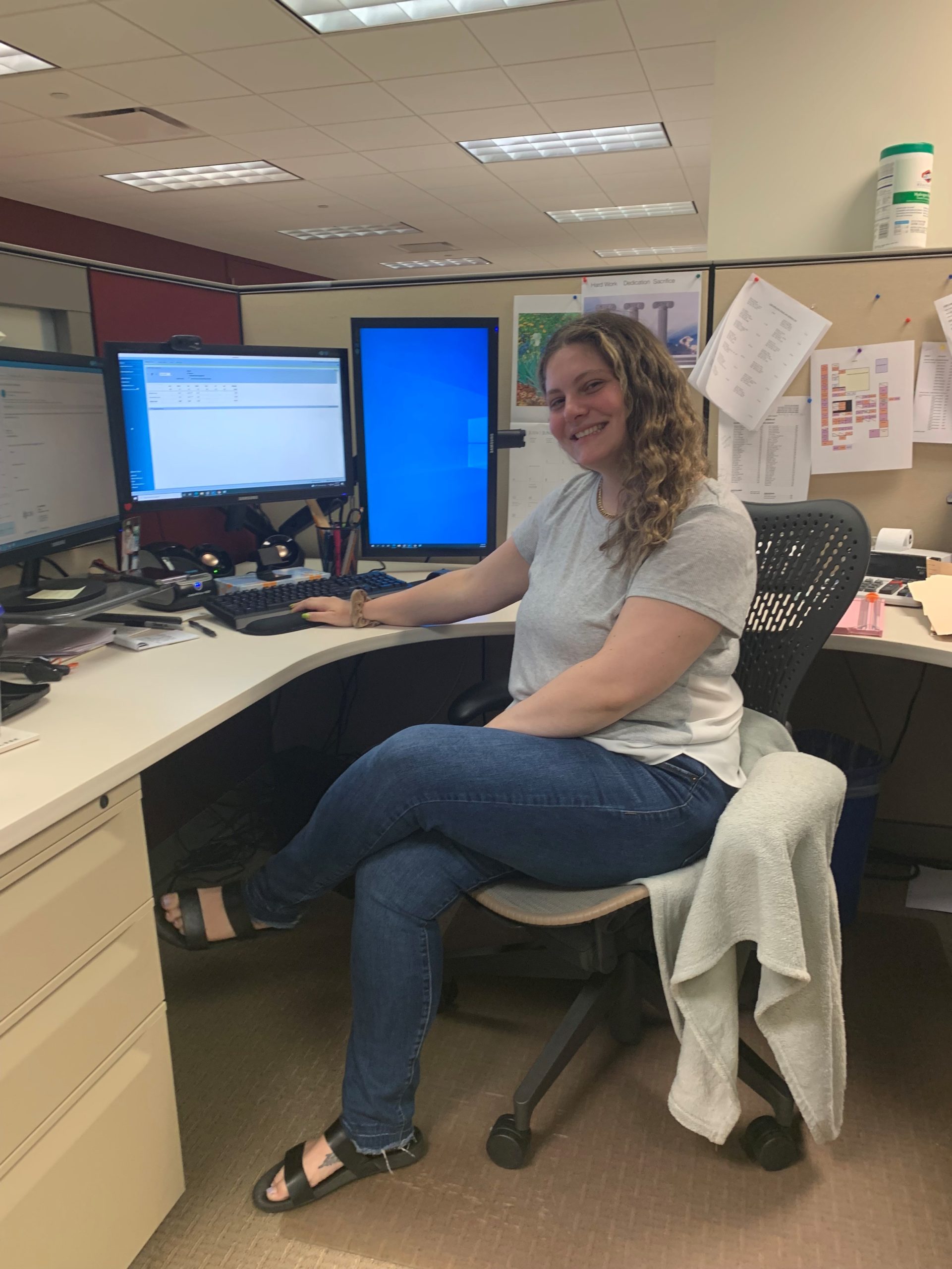 My first day of work as an administrative assistant at CJBS in August 2020 was unlike any other first day I've had — not because of the people or the office, but because I started in the middle of a worldwide pandemic. The CJBS office had recently reopened after being closed during the beginning of the pandemic. On my first day, I noticed a few things immediately. First, everyone was wearing a mask when in a public area or interacting with others. People were courteous and respectful, giving each other ample space while moving around the office. Staff were assigned in-office days based on their cubicle location, to ensure there weren't too many people sitting in one area at any given time.
As I walked around the office, I was also happy to see hand sanitizer stations at the ends of hallways, next to printers, and near the entrance. In addition, CJBS had put clear safety rules in place: we couldn't meet with clients in the office or have vendors in the space, and the office kitchen was closed. Right away, I knew this was going to be a safe and clean place to work.
When I first started, I was only in the office two days a week and worked remotely the other three days. Working from home was a new experience for me, and I have to admit I was a little intimidated. Learning a brand-new job, I was concerned I'd be at a disadvantage during the training process. But I quickly realized how well CJBS had adapted to the work-from-home model. Tools like Microsoft Teams made it easy to connect with coworkers, and our IT Manager was extremely helpful in getting me logged in from home and answering any other tech questions I had. On days I was in the office I made sure to take full advantage of training on in-person tasks, such as assembling paper tax returns and scanning in documentation — two main responsibilities of my role.
After my first few months with CJBS, Covid-19 cases in Illinois were rising. For the team's protection, senior management decided to close the physical office again. The administrative team took turns going into the office individually to do things like answer phones and receive mail. This lasted into the holidays and through mid-January. When Covid cases began to decrease and there was talk of a vaccine being around the corner, we went back to our staggered in-office schedule.
On June 1, our office reopened to clients and vendors who are fully vaccinated. And CJBS staff and visitors who are vaccinated are able to be in the office mask-free. I still find it somewhat strange walking around the office without a mask, but it's a nice change of pace! And I'm grateful that the safeguards CJBS put in place early on created a healthy and productive environment for our team, clients, and vendors. Next, I'm looking forward to seeing people's friendly faces and getting to know our clients in person. After all, there's nothing like face-to-face interaction.
Respectfully,
Evan Melissa Davis
More News & Insights
M&A success goes beyond numbers. Organizations often consider successful M&A as solving a giant puzzle of financial statements, hoping to find the perfect profitability balance for both parties. While this is important, it is essential to look beyond the initial business stakes of numbers and profitability. A recent Deloitte study states the root cause of […]
Dear Clients & Friends, Hello! Spring is here, and tax season is now officially behind us. Here at CJBS we take advantage of the beautiful Chicago weather and a chance to rejuvenate and spend time with our loved ones by closing our office at 2 pm on Fridays from May – August. Unless you filed […]
Dear Clients & Friends, Tax deadlines are upon us. This year, tax day is April 18th in most states, with an extension date of October 16th. For individuals in FEMA-designated disaster areas, the deadlines have been postponed to October 16, 2023. If you haven't started on your taxes for 2022, now is the time. Even […]
Dear Clients and Friends,  We hope you are enjoying the beginning of spring. As we get closer to our individual tax deadline (4/18/23), we wanted to send a reminder about Illinois Extensions Payments. Illinois does not allow third party tax software to process extension payments electronically. If you have a balance due with your extension we […]
Here, we outline ways your cannabis business can safeguard against internal and external fraud attempts.  Cannabis is still a nascent industry—yet cannabis businesses throughout the United States have already seen their fair share of fraud. You may have heard the stories of internal theft, duped investors, cyberattacks, or inflated THC percentages on lab tests—the list […]
Dear Clients & Friends, The deadline to send us your tax-related documents is fast approaching. As a reminder, we require that individuals send us all their documents by March 20 to be able to timely file your tax return by the due date. Otherwise, you are looking at filing an extension. If you are a […]