Looking For Silver Linings As We Navigate the Covid-19 Pandemic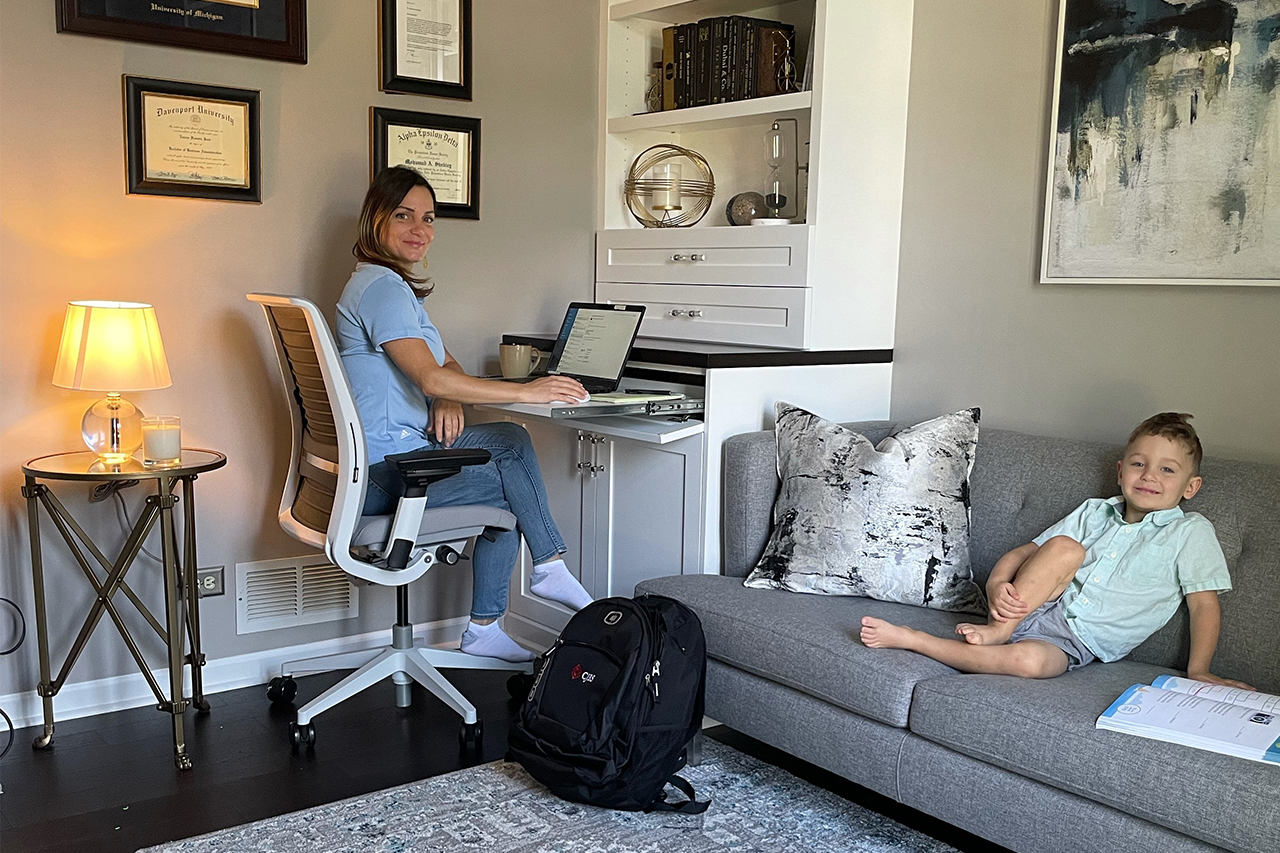 Over the past year, I've written a series of blogs about life and work during the Covid-19 pandemic. Most of these posts highlighted the importance of finding balance in difficult times — for example, by having systems in place to maintain productivity (and stay sane) and making the best use of technology to facilitate that. I also included advice on how to maintain a happy family life while working from home and how to make sure we all stayed healthy in the process — physically, mentally, and financially.
If one thing is clear, it's that the past year and a half has been a learning curve for all of us, including me! So now that things finally seem to be getting back to "normal", it seems like a good time to pause and reflect on what we've learned that we might want to carry forward in the months and years to come.
To start with the big picture, Covid-19 has clearly been devastating. Millions of lives have been lost worldwide, with hundreds of thousands in the United States alone. My heart goes out to everyone who has lost a loved one or suffered personally from the virus. The pandemic has also taken a toll on our economy and way of life. Thankfully, we are beginning to recover financially. Though the virus has left its mark, it has also shown us what's possible when we pull together. For that I am grateful.
Of course, things are not quite back to "normal," including our kids' back-to-school routine. For example, my daughter has been desperate to get back to school and play tag with her friends, but social distancing will make that tricky. Their solution: to "tag" each other's shadow. (Let's hope the sun is out!) It's so encouraging to see how resilient our kids are — they show us that the effort we make to find new solutions is an unexpected silver lining to the past 18 months.
That's not the only silver lining, however. I've noticed other ways that life can be better after the pandemic. For instance, everything is much more sanitary now. This not only helps control the spread of Covid but will also help protect us from "old-fashioned" colds and the seasonal flu. Most workplaces have implemented safety measures, such as sanitation stands, that make office life safer and healthier than before. This will be especially helpful now that there are additional variants of the virus.
Of course, not everybody is back in the office full-time. Working from home has become the "new normal" for lots of people around the world. For many of them, including me, this has spurred an even deeper interest in personal and professional growth. The pandemic has been a self-improvement accelerant for many of us, as we discover more online resources than ever before. One of my personal favorite is the Mastermind classes, which provide instant access to sessions taught by business leaders, celebrities, and athletes.
Embracing exciting new opportunities was another silver lining of the pandemic. For me, that involved leading marketing initiatives for CJBS and working with the whole team to champion our corporate values of trust, collaboration, and creativity. Writing articles and putting together Covid-19 resources to clarify new guidelines and tax-law changes became a welcome sideline during the pandemic. Additionally, like other businesses, we realized that our website had effectively become our new front office. So, we decided to refresh our online presence, providing more resources as well as developing a creative "team" page to connect with our clients on a personal as well as professional level. Each team member's bio now includes their hobbies and other "fun facts." It was a lot of fun to refresh the website and it helped create a sense of connection among the CJBS team, even while we were still physically apart.
In the last few weeks, many of us shifted to meeting in person for the first time in over a year. In fact, we recently had our first hybrid company meeting, with half our staff in the office and half on Microsoft Teams. For me, it was especially nice to meet some of our new staff in person and know they'll be benefiting from in-person learning. As someone who was already used to partially working remotely before the pandemic, I've come to appreciate the pros and cons of both remote and in-office work.
Being able to return to in-person meetings is not limited to the office. I recently attended my first in-person networking meeting at the chamber I joined during the pandemic. It's very different when you get to know someone virtually first before meeting them in person. In a strange way, it seems to make the bond stronger, relieving any potential awkwardness when you finally meet in person. I know I am not the only person who has gained a new perspective on what it means to connect and network with others as well as a new appreciation for the opportunity to do so, online or off.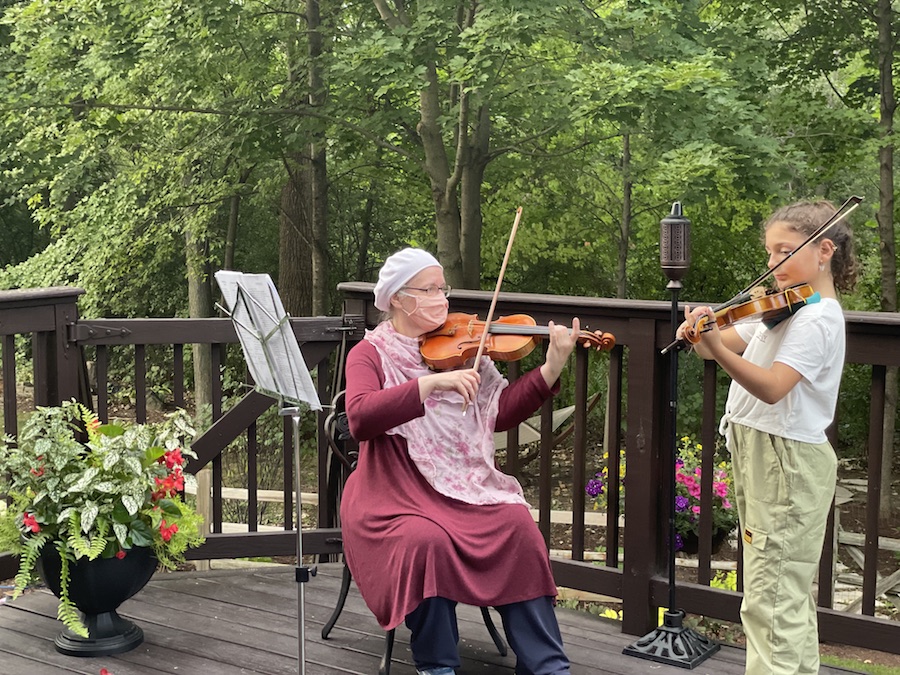 It's these perspective shifts the pandemic provided that have really had the greatest impact on me. Another silver lining of the past year and a half is having a better understanding that what matters is not so much work-life balance but work-life integration. This shift prevents me from making artificial (and counter-productive) distinctions between work time and family time. In fact, the memories I will cherish most involve my family: our kids leaving messages of encouragement to frontline workers on the windows of our home, our school's gym teacher coming over for a quick exercise drill in our driveway, or the violin teacher giving a lesson on our lawn. My 11-year-old daughter even used the time of isolation to write and publish her first book!
In the spirit of recognizing #covidopportunities, my hope is that if there's one thing we have gained from the pandemic, it's the resilience to find (or create!) a silver lining in every cloud. Let's resolve to carry this attitude forward and make the most of those silver linings, as we enjoy healthier and more mindful working lives well into the future.
Hope you stay safe and healthy.
With gratitude,
Eaman Shebley, EA
Accounting Supervisor / Director of Marketing, CJBS
More News & Insights
A comprehensive round-up of tax pointers for plant-touching businesses in the cannabis industry from CJBS Senior Partner Matt Bergman, CPA.  Cannabis's federal illegality and stringent regulations for state-legal businesses make taxation in the cannabis industry difficult to navigate–and that's an understatement. CJBS Senior Partner Matt Bergman, CPA, knows these complexities well, having operated in the […]
As we move into September, it's important to keep an eye on the calendar, especially if you filed an extension last spring. As a reminder, here are the upcoming deadlines for extensions: In addition to upcoming deadlines, this month we are inviting you to start thinking about your year-end tax planning strategies and how you […]
Running a business comes with its own inherent list of challenges and rewards. On a daily basis, you are often faced with decision-making opportunities that can affect the future of the company, including current tax liability and financial health. However, there's one decision that impacts the future in more far-reaching ways that is often overlooked […]
If you're a manufacturer, optimizing your business tax credit is key to maintaining good financial health. In general, tax credits are more valuable than tax deductions. Why? Because a credit reduces the company's overall tax liability on a dollar-for-dollar basis, whereas a tax deduction only reduces the business' taxable income. Appropriately using both, of course, […]
Internal controls are procedural safeguards put in place to protect access to financial information and transactions. Setting up internal controls is critical for any business to prevent fraud, but it is even more important for cannabis operators–as the industry is especially susceptible to fraud. We discuss internal controls in detail in this webinar with Partner […]
It's hard to believe that summer is almost over. With September around the corner, we are hard at work finalizing extended tax returns. If you filed an extension last spring, please reach out to your CJBS team member with any questions about your return or extension. For your convenience, all the extension deadlines are listed […]