Sue Miller Celebrates 20 Years at CJBS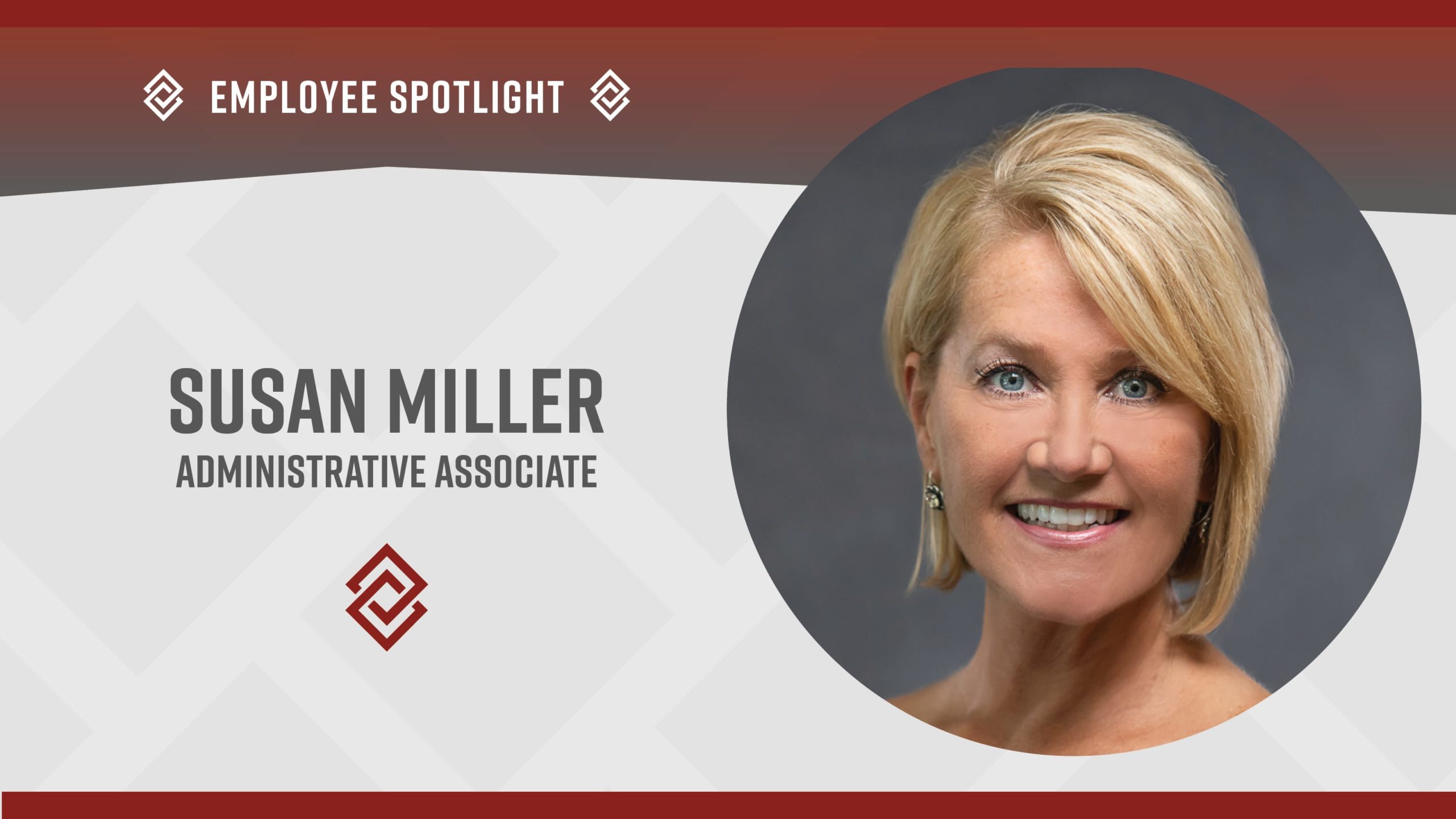 Please join us in congratulating Sue Miller on her 20th anniversary at CJBS! An administrative assistant who handles Managing Partner Jeffrey Stuart's practice, she's a go-to source for everything from extensions to e-filing. Her simple and effective motto? "Get it done."
We caught up with Sue to talk about her work milestone and more:
You started at CJBS in 2002. What's changed the most since then?
My age! When I started, I was one of the youngest employees. Honestly, though, it's the people. Our team used to have 20 to 25 people, and we've grown so much. We have about 60 team members now, and it's great. I get to meet even cooler people all the time! And they're from all over the world.
How about changes in your day-to-day work?
We've gone paperless, which has made our system a lot more secure. We don't even have a filing room for paper documents anymore! We need multiple passwords to access different areas, which is another big safety measure. And I personally implemented our new internal database, which tracks all of our client work. It was a huge challenge — and no one likes change because they get used to the old way of doing things — but everyone uses it every day now. It's been a big upgrade.
Which CJBS value do you connect with the most?
Definitely collaboration. During my interview 20 years ago, I was comfortable right away. I could tell this was a great group of people. I feel super lucky to be able to be myself at work. Trust is another important value for me. Clients understand that I will follow through with anything I promise to do for them. I'll get the job done.
Any tips for mentoring younger team members?
I try to show them that teamwork is key. We have a great core group of administrative assistants, which makes everyone's job easier. If we see someone drowning, we ask, "What can I do to help?"
What has been your most meaningful experience at CJBS so far?
When my husband passed away, my co-workers were so accommodating and supportive. I'm so grateful that I've been able to work at a company that was so compassionate and willing to work with my schedule when my husband was sick. I think that's very rare with most companies. I consider myself super blessed to work for a firm that takes into account people's lives and not just the work.
What are you looking forward to, personally and professionally?
I want to work as long as I possibly can, but I'd like to retire in 10 years. Currently, my goal is to make it through tax season! Other than that, I try to live the best life I can and try not to sweat the small stuff.
What do you like to do outside of work?
My four rescue dogs — Fletcher, Prince, Wilbur, and Scamp — are the "Miller Mutts." They're my family. I'm passionate about finding homes for dogs and work as the Volunteer Coordinator & Treasurer at the Chicago Dog Rescue. Other than that, I like to meet my friends for dinner at restaurants whenever we can.
We're looking forward to working with Sue for many years to come! You can learn more about her here.
More News & Insights
A comprehensive round-up of tax pointers for plant-touching businesses in the cannabis industry from CJBS Senior Partner Matt Bergman, CPA.  Cannabis's federal illegality and stringent regulations for state-legal businesses make taxation in the cannabis industry difficult to navigate–and that's an understatement. CJBS Senior Partner Matt Bergman, CPA, knows these complexities well, having operated in the […]
As we move into September, it's important to keep an eye on the calendar, especially if you filed an extension last spring. As a reminder, here are the upcoming deadlines for extensions: In addition to upcoming deadlines, this month we are inviting you to start thinking about your year-end tax planning strategies and how you […]
Running a business comes with its own inherent list of challenges and rewards. On a daily basis, you are often faced with decision-making opportunities that can affect the future of the company, including current tax liability and financial health. However, there's one decision that impacts the future in more far-reaching ways that is often overlooked […]
If you're a manufacturer, optimizing your business tax credit is key to maintaining good financial health. In general, tax credits are more valuable than tax deductions. Why? Because a credit reduces the company's overall tax liability on a dollar-for-dollar basis, whereas a tax deduction only reduces the business' taxable income. Appropriately using both, of course, […]
Internal controls are procedural safeguards put in place to protect access to financial information and transactions. Setting up internal controls is critical for any business to prevent fraud, but it is even more important for cannabis operators–as the industry is especially susceptible to fraud. We discuss internal controls in detail in this webinar with Partner […]
It's hard to believe that summer is almost over. With September around the corner, we are hard at work finalizing extended tax returns. If you filed an extension last spring, please reach out to your CJBS team member with any questions about your return or extension. For your convenience, all the extension deadlines are listed […]