Year-End Retirement Planning Strategies Around Your IRA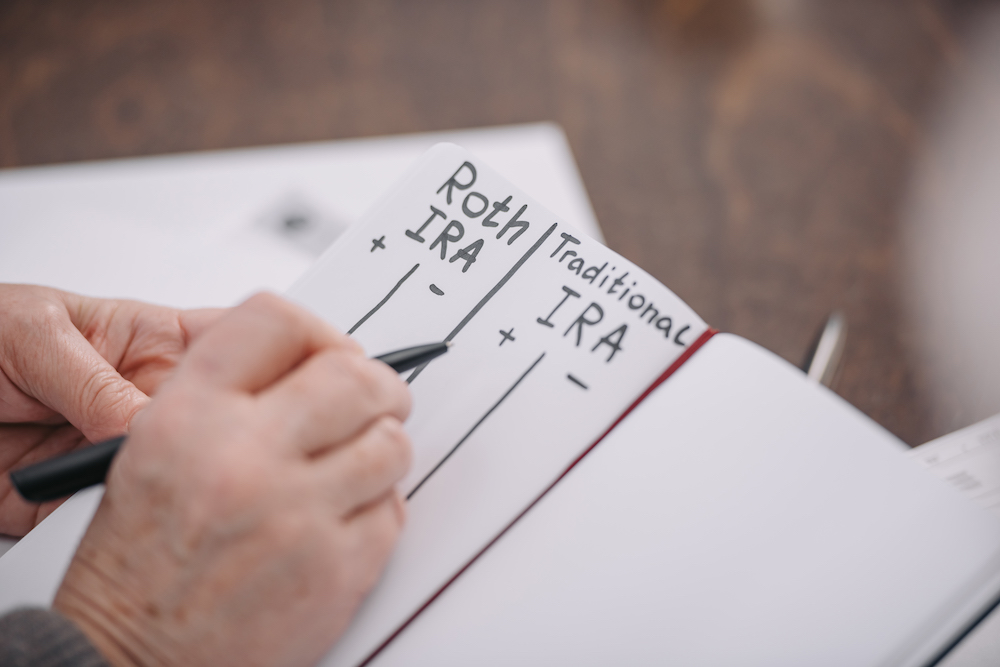 Dear Clients & Friends,
As we come to the end of a challenging year, many people are turning their thoughts to their long-term financial security, looking for ways to make the most of their savings, especially when considering retirement. The good news is that there are different options available based on your circumstances. In this article, we break down the possible benefits of converting your traditional IRA to a Roth IRA. (Note: Taxpayers may convert a traditional IRA to a Roth IRA regardless of modified adjusted gross income (AGI) or filing status.)
The primary differences are as follows:
| | | |
| --- | --- | --- |
| | Traditional IRA | Roth IRA |
| Contributions | Tax deductible | Post taxes |
| Withdrawals | Pay income tax | Tax-free |
| Required Minimum Distributions | Required | Not required |
| | | |
Should you convert your traditional IRA to a Roth IRA?
It could be a good idea to convert to a Roth IRA if you anticipate being in a higher tax bracket at the time of distribution, or if your investment can be expected to grow due to a long amount of time between contribution and distribution.
There are annual limits to both traditional and Roth IRA contributions. For 2022, the maximum amount that can be contributed to either one is the lesser of your total annual compensation or $6,000, going up to $6,500 in 2023.
In order to maximize the benefit of untaxed growth of Roth IRAs without violating annual contributions limits, you can convert other retirement contributions to a Roth IRA, including traditional IRA contributions, as well as §401(k), §403(b), and §457(b) deferral amounts (subject to separate annual limitations). There is no limit on how much you can convert during a taxable year. Tax is due upon the conversion, just as it would be if it were an original Roth contribution.
Another option is to recharacterize a regular contribution made to either a Roth or traditional IRA. To do this, you need to tell the trustee of your account to transfer the amount of the contribution plus earnings to a different type of IRA in a trustee-to-trustee transfer, or to a different type of IRA with the same trustee. However, recharacterization elections can only be made if the transfer is accomplished by the filing deadline for the owner's federal income tax return (including extensions) for the year in which the original contribution was made. Furthermore, although it was previously possible to switch back again, recharacterizing a converted Roth IRA back to a traditional one is no longer allowed.
Finally, if you are younger than 59½ and take a distribution large enough to convert the desired amount to your Roth IRA and cover the taxes due upon conversion, you will also have to pay a 10% early distribution penalty tax on any excess not directly rolled over to the Roth account. For this reason, it would be better to pay the tax due upon conversion from separate funds, instead of taking it as a distribution.
Understanding how to plan for your future is one of the best gifts you can give yourself. Making a year-end IRA contribution and/or conversion to a Roth IRA can be part of good planning. At CJBS, we understand that there are questions to answer when considering what's best for your specific situation. As ever, we are here to offer guidance tailored to your unique circumstances and to help you plan for the long term.
We wish you all the best for the new year and beyond!
Stay safe and healthy,
The CJBS Team
UPDATED: December 2022
More News & Insights
A comprehensive round-up of tax pointers for plant-touching businesses in the cannabis industry from CJBS Senior Partner Matt Bergman, CPA.  Cannabis's federal illegality and stringent regulations for state-legal businesses make taxation in the cannabis industry difficult to navigate–and that's an understatement. CJBS Senior Partner Matt Bergman, CPA, knows these complexities well, having operated in the […]
As we move into September, it's important to keep an eye on the calendar, especially if you filed an extension last spring. As a reminder, here are the upcoming deadlines for extensions: In addition to upcoming deadlines, this month we are inviting you to start thinking about your year-end tax planning strategies and how you […]
Running a business comes with its own inherent list of challenges and rewards. On a daily basis, you are often faced with decision-making opportunities that can affect the future of the company, including current tax liability and financial health. However, there's one decision that impacts the future in more far-reaching ways that is often overlooked […]
If you're a manufacturer, optimizing your business tax credit is key to maintaining good financial health. In general, tax credits are more valuable than tax deductions. Why? Because a credit reduces the company's overall tax liability on a dollar-for-dollar basis, whereas a tax deduction only reduces the business' taxable income. Appropriately using both, of course, […]
Internal controls are procedural safeguards put in place to protect access to financial information and transactions. Setting up internal controls is critical for any business to prevent fraud, but it is even more important for cannabis operators–as the industry is especially susceptible to fraud. We discuss internal controls in detail in this webinar with Partner […]
It's hard to believe that summer is almost over. With September around the corner, we are hard at work finalizing extended tax returns. If you filed an extension last spring, please reach out to your CJBS team member with any questions about your return or extension. For your convenience, all the extension deadlines are listed […]