Matt Bergman and Ryan Guedel: Cannabis CPAs Who Care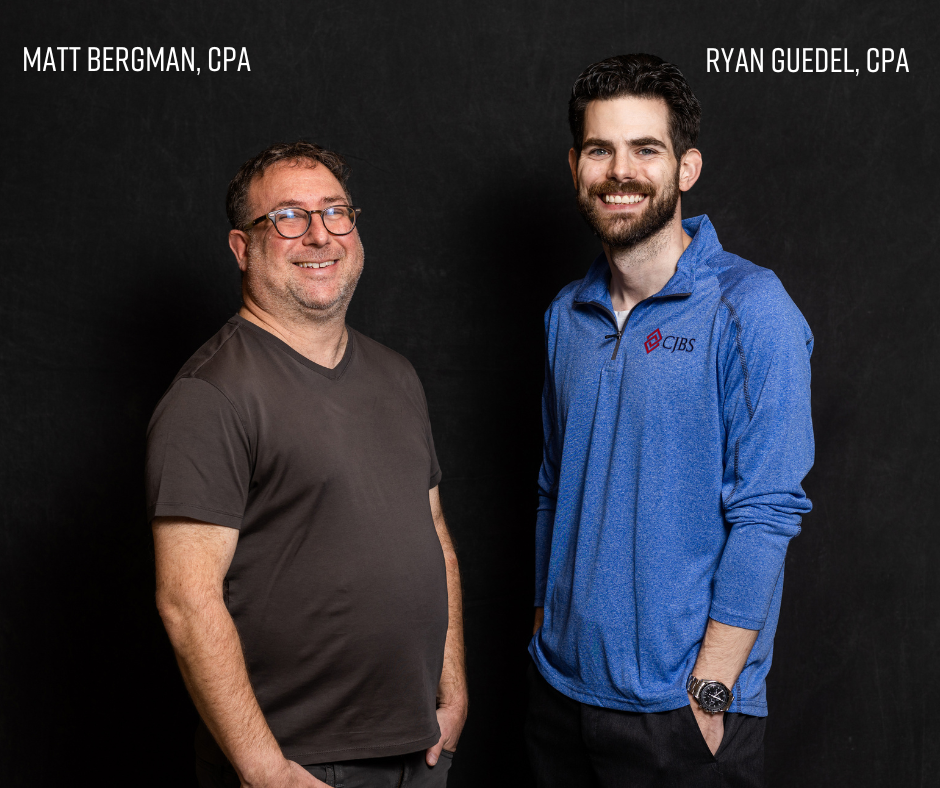 CJBS' Cannabis practice isn't simply an add-on service to our accounting firm. We are deeply committed to helping cannabis business owners succeed in this emerging, challenging, and quickly evolving industry.
Our team is immersed in this space, not only in Illinois' medical and adult-use markets, but throughout the country. We're constantly networking with industry leaders, combing through the regulations, and identifying the market dynamics to understand the pain points and bottlenecks that business owners face day-in and day-out.
Because CJBS employs a diverse group of professional accountants and support team with experience in many different industries, including cannabis, we funnel all that expertise into this dedicated arm of our firm. Your relationship with CJBS will not only be a meaningful partnership, but you'll also have the confidence that the guidance comes with a holistic point of view and your best interests in mind.
Get to know the CJBS members leading our Cannabis Team below.
Meet Matt:
"We don't live in a world of black and white. We live in a world of grey. We need to stringently follow the regulations and parameters; however, it's up to us to navigate in a world of grey to achieve your goals."
This is CJBS Senior Partner and Cannabis Team Leader Matt Bergman, CPA's philosophy about accounting and tax preparation in the cannabis industry.
Whether those goals are aggressive, conservative, or somewhere in between, that deep understanding of the quickly growing and constantly evolving cannabis industry and its tax laws is what enables Matt and his team to follow a proactive—rather than reactive—strategy in accounting and tax preparation for CJBS' cannabis business clients.
'A Financial Confidante'
"What excites me is being able to help people understand what they're getting themselves into. I've always liked being involved in the start-up process, being able to help people to get to where they want to be, then let them go on and develop themselves," Matt says.
Matt, who joined the firm in 1997, loves his work because he wakes up to something new every day. In the 25-plus years he has served as a trusted advisor in accounting, tax, and consulting, he has formed strong, long-lasting, sometimes multigenerational bonds with his clients ranging from health care to real estate to cannabis—not by being a CPA who's called on once a year at tax time—but serving as a financial confidante who plays a holistic role in financially advising businesses.
"We deal with a very intimate part of people's lives. People do not like talking about money, especially when times are bad. So they come to us and they tell us things they may not tell their spouse or best friend or therapist. And we've always acted as that role—someone to talk about these issues when they're having a problem."
More about Matt
Designations
Certified Public Accountant (CPA) – Illinois
Memberships
American Institute of Certified Public Accountants (AICPA)
Illinois CPA Society (ICPAS)
Treasurer, Board of Jewish Education
Education
Bachelor of Science in Accounting from University of Illinois – Urbana Champaign (1996)
Fun Facts
Family: Matt and his wife Jennifer, have been married 15+ years. They have two kids, three dogs, and their favorite place to vacation together is Hawaii.
Hobbies: The Bergmans spend their weekends in the throes of school activities—mainly baseball and dance.
Favorite Music: Phish, Grateful Dead, Led Zepplin, and Pink Floyd
Favorite Book Genre: Horror
Best Meal in Chicago: Sitting down for a steak dinner at Bavette's in River North
Meet Ryan:
"I got into this industry to protect people," says CJBS Partner and Cannabis Team Leader Ryan Guedel, CPA.
Accounting was like a magnet that drew Ryan in to give back to others even before his college days, he says. This stems from his own humble beginnings. Years ago, his family business fell victim to a lack of transparency in accounting practices. Since then, Ryan has made it his mission to ensure his clients don't suffer the same fate—especially in the complicated and still-federally illegal cannabis industry where financial expectations and financial reality often conflict.
"The interactions with the individuals in this industry remind me of working with my dad—not a white-collar person, but a blue-collar person who gets their hands dirty, who's not an accountant. They need an accountant," Ryan says. That's because if financial compliance isn't treated as a top priority, a cannabis business may very well be built on a house of cards, he adds.
"Hard Work"
Ryan joined CJBS in 2009 as a staff accountant, and has worked his a way up to partner over the past 14+ years. Throughout his CJBS tenure, he's served in the manufacturing, construction, and distribution industries—as well as specialized in professional athlete and entertainer taxation. On the Cannabis Team, his focus includes due diligence, audits and compliance.
Ryan's motto is: "Hard work, and even more hard work." His CJBS colleagues often joke that he's a "pessimist" because he always plans for the worst and hopes for the best, yet they say his intense attention to detail—making sure every "i" is dotted and "t" crossed—is what makes him special and a trusted partner they can count on.
More about Ryan
Designations
Certified Public Accountant (CPA) – Illinois
Memberships
American Institute of Certified Public Accountants (AICPA)
Illinois CPA Society (ICPAS)
Business Network International (BNI)
Education
Bachelor of Arts (2008) and Master of Business Administration (2009) from North Central College
Fun Facts
Family: Ryan and his wife, Julie, have been married 11+ years are new parents to a baby boy named Cole Jameson.
Hobbies and Interests: Jiu Jitsu, Formula One, graphic design, as well as a fierce devotion to Ford Motor Company. "I will not drive a vehicle—even a rental—if it's not a Ford," Ryan says.
Favorite Sports Team: New York Yankees
Best Meal in Chicago: Barbeque at The Patio in Oak Brook
More News & Insights
A comprehensive round-up of tax pointers for plant-touching businesses in the cannabis industry from CJBS Senior Partner Matt Bergman, CPA.  Cannabis's federal illegality and stringent regulations for state-legal businesses make taxation in the cannabis industry difficult to navigate–and that's an understatement. CJBS Senior Partner Matt Bergman, CPA, knows these complexities well, having operated in the […]
As we move into September, it's important to keep an eye on the calendar, especially if you filed an extension last spring. As a reminder, here are the upcoming deadlines for extensions: In addition to upcoming deadlines, this month we are inviting you to start thinking about your year-end tax planning strategies and how you […]
Running a business comes with its own inherent list of challenges and rewards. On a daily basis, you are often faced with decision-making opportunities that can affect the future of the company, including current tax liability and financial health. However, there's one decision that impacts the future in more far-reaching ways that is often overlooked […]
If you're a manufacturer, optimizing your business tax credit is key to maintaining good financial health. In general, tax credits are more valuable than tax deductions. Why? Because a credit reduces the company's overall tax liability on a dollar-for-dollar basis, whereas a tax deduction only reduces the business' taxable income. Appropriately using both, of course, […]
Internal controls are procedural safeguards put in place to protect access to financial information and transactions. Setting up internal controls is critical for any business to prevent fraud, but it is even more important for cannabis operators–as the industry is especially susceptible to fraud. We discuss internal controls in detail in this webinar with Partner […]
It's hard to believe that summer is almost over. With September around the corner, we are hard at work finalizing extended tax returns. If you filed an extension last spring, please reach out to your CJBS team member with any questions about your return or extension. For your convenience, all the extension deadlines are listed […]