Celebrating 25 Years at CJBS: Mary Fredericks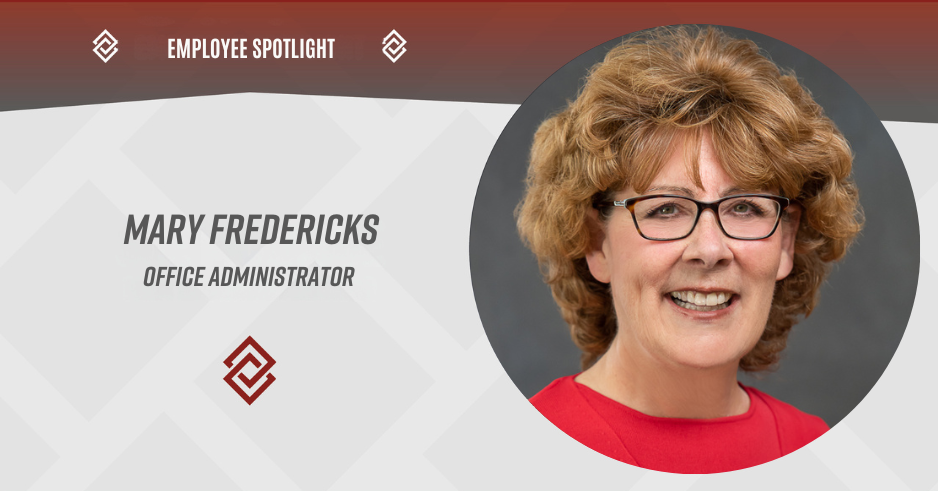 We are thrilled to honor Mary Fredericks' 25th anniversary with CJBS. Mary joined the team in 1998 and serves as the Office Administrator wearing many hats, including managing the firm's administrative team and Human Resource (HR) Department. As an integral part of the team, Mary has devoted herself to the support of our clients and the CJBS professional staff throughout her tenure. 
We caught up with Mary to talk about her work milestones and more:
What has been most meaningful to you about working at CJBS? 
Being able to work with some wonderful, intelligent, hardworking co-workers who care about each other and our CJBS clients. While a majority of my job has been employee/HR related, I hope I have also been able to help our clients as well. In fact, there are many clients who I have interfaced with for the entire time I have worked here—all 25 years! It has been nice to know them on a personal level and to hear about their families and what is going on in their lives. 
In my HR role, I have tried to do my best to help our employees by assisting them in understanding and navigating things like health insurance, 401k's, etc. In fact, I always try to convince our young employees about the importance of contributing to the 401k retirement plan we provide—even if they are only able to contribute a small amount at the start. I hope I have been a good resource for our employees in my time here. As CJBS's first Office Administrator, I'm thankful that the partners placed their trust in me when they first hired me 25 years ago. I hope I have helped make CJBS a better place during my time here.
You started at CJBS in 1998. What's changed the most since then? 
The biggest change I've seen at CJBS has been how much we have grown. We had around 25 employees when I started, and now we have over 70! It's pretty amazing to see how much we have grown over the years.
Which CJBS value, Trust, Creativity, and Collaboration, do you connect with the most? 
Creativity means thinking outside the box. Sometimes in my role, you have to think of another way (different from the norm) to achieve your goal. Sometimes there is more than one way to arrive at an answer. Collaboration means working with others to help them achieve their goals. If an employee has a question about health insurance or the 401k, I would like to think that I can help them get the answer to their question. The value I connect with the most is trust. I have heard a lot of confidential information in my HR role, and I hope that if an employee tells me something in confidence, they know they can trust me to keep that information between the two of us. This is really, really important in my HR Role.
What are you excited to accomplish next at CJBS? Personally, and professionally, in the next 5 years? 
I am most excited to train my future replacement. I will be retiring at the end of 2024 and I'm the only one to have held this position at CJBS. I am happy to say that we have already hired an individual to take over my role—her name is Danae Wothe, and she will do a great job here once I've retired. There is a lot of information that I need to pass on to her throughout the next year. Working together, I am confident that we can create a seamless transition and Danae will have all the knowledge and background she needs to be successful here at CJBS.
Any tips for mentoring younger team members? 
Listen to that HR person when they tell you that participating in the HSA is one way to fund your retirement and start participating in the 401k as soon as you can. I would also let them know that communication and listening skills are super important to being successful. 
Speaking of mentoring, can you share any tips for thriving in the accounting industry?  
Never forget how important our clients are. Be respectful and responsive to them. We are definitely in the numbers business, but we are also in the people business. 
You serve on various committees at work, can you tell us more about them? 
I am a member of our Culture Committee. My role is that of a facilitator, which means I help guide the meetings and encourage input from everyone. The committee is made up of associates, senior associates, and supervisors. Together, we plan activities for the firm throughout the year and help filter suggestions made by staff members.
How did you or will you celebrate your big work anniversary? 
The firm will be hosting a lunch to help me celebrate my 25 years.
What do you enjoy doing outside of work? 
I enjoy watching sports from one of my Alma maters, Purdue. Specifically, I like watching men's basketball. (They will make it to the Final Four one of these years!) I also enjoy watching women's volleyball. In fact, I got to see them play in person in September of this year. I used to play recreational volleyball so it is always fun to watch how good these ladies are. I also like to play golf and have been playing with the 'Chix with Stixs' for over 20 years. I have made some wonderful friends through golf.  
Can you tell us a little bit more about your family life? 
I have been married to my husband, Chuck, for 20 years. We have a furry Sheltie named Violet who keeps us on our toes. I am looking forward to being able to spend more time with both of them once I retire. I also became a great aunt in 2022, so I am looking forward to being able to see my great niece, Hazel, grow year by year. 
Thank you, Mary, for your 25 years of service, camaraderie, and guidance. We are grateful for you and wish you all the best in retirement next year!
The CJBS Team
More News & Insights
We are thrilled to honor Mary Fredericks' 25th anniversary with CJBS. Mary joined the team in 1998 and serves as the Office Administrator wearing many hats, including managing the firm's administrative team and Human Resource (HR) Department. As an integral part of the team, Mary has devoted herself to the support of our clients and […]
Engelman's appointment is a testament to the Chicago-based accounting firm's commitment to diversity and inclusivity. CJBS, a leading accounting firm in Illinois, is pleased to announce the appointment of Lorena Engelman as its first female equity partner. This milestone appointment marks a significant achievement for CJBS and showcases the firm's dedication to fostering diversity […]
Chicago, IL – CJBS, a leading accounting firm in Illinois, is thrilled to announce that it has been honored with the esteemed Best of Accounting award by Clearly Rated, and also as one of the best places to work in Illinois, according to The Daily Herald. Clearly Rated's Best of Accounting award reaffirms CJBS's unwavering […]
Dear Clients and Friends,  We are simultaneously happy and sad to share the retirement announcement of Jerry Fitzpatrick, principal at CJBS. Jerry will be retiring on March 17, 2023.  Jerry and fk advisors merged into CJBS at the beginning of 2020. As a CPA for over 35 years, Jerry has been a trusted advisor to […]
Dear Clients and Friends,  We are writing to share that after four years as a CJBS Principal—and nearly 50 years as a CPA—Burke Oehrlein will be retiring on October 15, 2022.   Since 2018, when Burke and his daughters joined the CJBS family, we have had the pleasure of working with him and the clients they […]
The local accounting firm, which prides itself on its culture, was included in the Daily Herald Suburban Business' 2022 Awards. JULY 12, 2022 (CHICAGO, IL) — CJBS, the Northbrook, Illinois-based accounting and consulting firm, announces its appointment to the 2022 Best Places to Work in Illinois list, created by Daily Herald Suburban Business. This annual […]